Jurassic World: Dominion Dominates Fandom Wikis - The Loop
Play Sound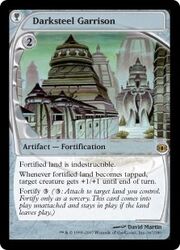 Fortification is an artifact subtype.
Details
A Fortification can be attached to a land following the same rules as an Equipment attached to a creature. It uses the Fortify keyword, its counterpart to Equip.
301. Artifacts

301.6 Some artifacts have the subtype "Fortification." A Fortification can be attached to a land. It can't legally be attached to an object that isn't a land. Fortification's analog to the equip keyword ability is the fortify keyword ability. Rules 301.5a–e apply to Fortifications in relation to lands just as they apply to Equipment in relation to creatures, with one clarification relating to rule 301.5c: a Fortification that's also a creature (not a land) can't fortify a land. (See rule 702.66, "Fortify.")

702.66. Fortify

702.66a Fortify is an activated ability of Fortification cards. "Fortify [cost]" means "[Cost]: Attach this Fortification to target land you control. Play this ability only any time you could play a sorcery."
702.66b For more information about Fortifications, see rule 301, "Artifacts."
702.66c If a Fortification has multiple instances of fortify, any of its fortify abilities may be used.